Unparalleled Experience With Atlanta Perimeter Service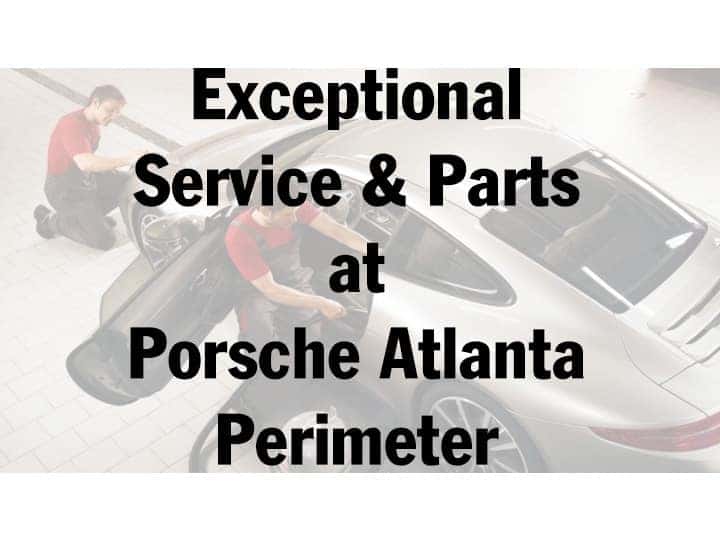 At Porsche Atlanta Perimeter, we understand the importance of keeping your Porsche up to date on all service and maintenance repairs. As a Premier Porsche Dealer, we take pride in providing exceptional customer service and keeping our customers right where they should be–in the driver's seat of their Porsche.
We have over 165 years of combined service experience serving the greater Atlanta Porsche community–offering an experience beyond the normal service routine like no other repair shop around. Our capable staff, special tools and Porsche genuine parts will keep your Porsche functioning safely and efficiently.
Service
Our Porsche certified service experts are equipped with over $100,000 special tools. So, whether your Porsche needs routine service or a major repair we guarantee we can get any coupe, roadster or SUV in perfect condition. To schedule a service appointment, call our service department at 888.256.2408 or just visit our xtime service tool available online 24/7. With our Service SpecialOffers you can save on your next visit!
Parts
Our Parts Department is an exclusive source for classic and genuine Porsche parts. Maintain the genuine status of your vehicle and rest easy knowing these parts are backed by a nationwide 2-year unlimited mileage warranty.
Rare and classic Porsche car restorations are one of our expertise. You can easily utilize our parts order inquiry form and we will find the exact part you are looking for. View our parts specials to save on your next parts order.
Whether you're a long-time Porsche Atlanta Perimeter customer or just learning about our dealership, we invite you to experience what makes our service center the best place to maintain, service and repair your Porsche vehicle.
We're looking forward to welcoming you to the Jim Ellis Porsche family and keeping you in your Porsche driver's seat.