Should I Buy a Used Porsche Macan?
If you're planning to buy a used vehicle, a Porsche Macan is a great choice. You'll find that early models are highly affordable, and we already know they can be a ton of fun to own and drive.
Still, there are a few things you should know about buying a used Porsche Macan, and that's exactly what we're going to cover in this post.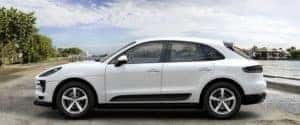 It's never an easy feat to choose the right car for your needs and lifestyle, but with a little research and answers to the right questions, you can really find a gem in the used car market.
Whether you're looking for a used Porsche Macan or any other used vehicle, you're going to want to find a balance of mileage and model year. Generally speaking, lower mileage vehicles won't have as much wear and tear, so they're a better buy regardless of the model year.
All About the Porsche Macan
The Macan was introduced in the United States in the 2014 and 2015 model years. And here's a little-known fact for Macan enthusiasts: This vehicle was almost called the Cajun. Porsche changed the name to Macan right before the vehicle's launch.
Macan is an Indonesian word for tiger, which describes this sporty SUV quite well. And if you're looking for the lowest sticker price on a Macan, you may want to opt for an early model that's out of warranty. You'll find that these are still high-quality vehicles that you can grab at a major bargain.
The Macan was first introduced as the Macan S and the Macan Turbo only. The GTS trim soon followed.
How much does a used Porsche Macan cost?
There are many variables that will go into your used Porsche Macan price, so it's difficult to provide a number. But we can say that the Porsche Macan retains its resale value very well.

In fact, the Porsche Macan won Kelley Blue Book's Best Resale Value award in the Luxury SUV category for several consecutive years.
So you can expect to pay for quality, but as a Macan owner, you can rest assured that your vehicle will not depreciate as quickly as other cars in its class.
Does Porsche require premium gas?
When you're considering the cost of a used vehicle, gas requirements can have a major impact. Premium gasoline obviously comes at a higher price, and that can add up every time you fill-up the tank.
But whether or not the Porsche Macan requires premium gas depends on which model and model year you happen to own. Always refer to your owner's manual to find out whether premium gas is required or recommended. And note that there's a difference between requirements and recommendations.
Because Porsche produces high-performance engines with a high compression ratio, many Porsche Macans do require premium gasoline. And if you decide to downgrade on gas, you could run into performance issues. Specifically, you'll notice engine knocking caused by small pockets of air and exploding fuel (outside of the combustion process). If this happens once, it may not cause any major issues. But if you continue using inferior gasoline on your high-performance vehicle, you may find yourself with costly repairs and major performance issues.
Bottom line
The Porsche Macan is a high-quality vehicle that holds onto its resale value better than most. So buying a used Porsche Macan is a sound choice.
If you're ready to explore your options, visit our showroom to view our selection of used Porsche Macan models.