Thanks for reading our 2021 Porsche Taycan vs. Tesla Model S comparison page! These two performance EV sedans promise exciting mobility that dwarfs anything else available. It is a modern-day battle initiated by two contemporaries over 120 years ago. Dr. Ferdinand Porsche and Nikola Tesla were peers. They lived, researched, and worked at the same time, within a stone's throw of each other as the crow flies between Austria and Germany. While Nikola Tesla is known for his work on semiconductors, he is the famous namesake for the popular EV known as the Tesla. What you may not know is that Dr. Ferdinand Porsche beat Tesla to the EV market by approximately 120 years. The first Porsche ever made was the Porsche P1 EV. Scroll below to see which of these two visionaries will be crowned the victor. When you're through, you can read more about the new Porsche Taycan EV here.
Let There Be Light
The automotive industry tips its hat to Tesla for popularizing EV mobility. The Model S brandishes minimalist design, easy-to-use technology, and lively performance. Unchecked by any other EV for the past several years, Tesla has enjoyed tremendous popularity in a class all its own—but not anymore. The redesigned 2021 Porsche Taycan family, including the new Porsche Taycan Turbo S, have stepped onto the stage and threaten to steal the spotlight.
In terms of power, you will find a key advantage with the electric Porsche Taycan vs. Tesla Model S: a dual-speed transmission. Tesla is no longer the only EV capable of blistering acceleration. The Porsche Taycan Turbo S can send you from 0 to 60 in 2.4 seconds, at 1.3 times the force of gravity. In other words, do make sure all seatbacks and tray tables are in the upright and locked position. It is strongly advised that all passengers remain seated until the pilot (you) determines otherwise.
Power & Performance
| | | |
| --- | --- | --- |
| Battery | 83.7kWh | 102.5kWh |
| Running Voltage | 800v | 375v |
| Horsepower | 750hp | 691hp |
| Top speed | 161mph | 163mph |
| 0–60 | 2.4sec | 2.4sec |
| Repeatable performance | yes | no |
2021 Porsche Taycan vs. Tesla Model S: Luxury
Bespoke examples of Porsche automobiles from every era are cherished by collectors of all ages. A signature brand value of Porsche is the care taken to make you feel like a god in the driver's seat. Simply put, the Porsche Taycan interior is unmistakably Porsche but undeniably unique. From a technologist's perspective, you'll enjoy having over 41″ of digital displays and controls throughout your world-class cabin, not so with Tesla. The Porsche Taycan gives you nearly two dozen leather and Race-Tex color combinations for your seat surfaces. But that's only after you've picked your favorite of three seat types, a dozen complimentary thread choices, and several distinctive seat belt colors. If you prefer pleather seating in black, white, or tan, then the Tesla Model S might work fine.
Continue to personalize your 2021 Porsche Taycan with other wonderful features like adaptive seating, massage seating, and a palette of 17 exterior colors, including favorites like Carrara White, Frozen Berry, and Miami Blue, among others. Tesla offers you five color choices. They do allow for a coin-toss with wheel options (19″ or 21″). With the Taycan, you'll have to find a favorite among eight wheel options. And then you'll have to decide between multiple color finishes or even body-color-matched wheels.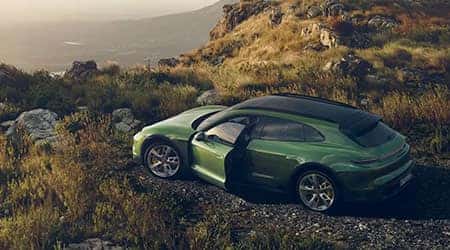 | | | |
| --- | --- | --- |
| Exterior colors | 17 | 5 |
| Interior colors | 13 | 3 |
| Seating materials | 3 | 1 |
| Seating types | 3 | 1 |
| Accent colors | 12+ | N/A |
2021 Porsche Taycan vs. Tesla Model S: Charging
While Nikola Tesla was known for his work on high-powered semiconductors, Porsche edges out the Model S in this area, too. At a rapid-charging station, the Porsche Taycan can recharge from 0 to 80% capacity in as little as 22 minutes. The Tesla Model S trails behind with a charge time of about 30 minutes.
Tesla, known for its long-range capabilities, promises anywhere between 400 and 500 miles of cruising range.1 However, recent third-party testing shows that real-world results are about ½ of that. Be that as it may, the Porsche Taycan is estimated by the EPA to offer a conclusive and repeatable 201 miles of cruising.1 Another key factor in understanding Porsche's superiority is with respect to performance degradation. With the Taycan, there isn't any. You can run your 0–60 and ¼-mile times again and again, whereas the Tesla allows you to do so only once. When Tesla spends many years racing, it might also figure out how this is achievable.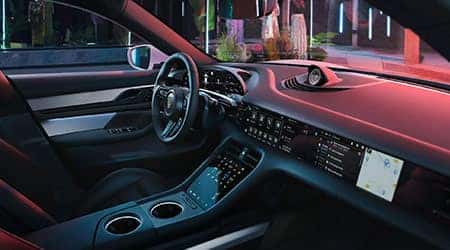 | | | |
| --- | --- | --- |
| Charge time from 0 to 80% | 22 minutes | 30 minutes |
| EPA est Range | 201 miles | 387 miles |
| EPA economy | 68 MPGe | 110MPGe |
Explore our Porsche Taycan lease deals and put performance with a pedigree in your driveway.
2021 Porsche Taycan vs. Tesla Model S: Pricing
Perhaps this is the only area where the 2021 Porsche Taycan electric vs. Tesla Model S comparison may be on equal footing. The entry point on the Porsche Taycan starts at about $79,990 and can work its way past $185,000, depending on your final configuration.2 You can find your way into a Tesla Model S for about $81,190. If you expect to see Porsche-level performance from your Tesla Model S, you can see the price start somewhere around $141,190.2
In the end, you'll have to ask yourself if you're actually getting what you're paying for. Will your investment be placed on a century-old foundation of automotive excellence, or will you back a brand that doesn't include 75% of their fleet in their CPO program? For considering any Porsche Taycan price, the real value seems clear.
| | | |
| --- | --- | --- |
| Tax credit eligible | YES | NO |
| MSRP Range | $79,990-$185,0001 | $81,190-$141,1902 |
Is Tesla faster than Porsche?
Yes and no. If you are looking for out-of-the-box performance specs, the Porsche Taycan Turbo S has a 0-60 of 2.4 seconds. A whole second faster than the Tesla Model S. However, if you opt-in for the Cheetah upgrade from Tesla, the Model S can achieve a neck-snapping 0-60 of 2.3 seconds.
Can you charge a Porsche at a Tesla charging station?
Yes and no. Depending on which type of charging station and what equipment you have, you may or may not be able to use Tesla charging stations. Here's the deal; Tesla wall chargers and Destination chargers come with a Tesla-specific plug. That said, you can purchase an adapter (the highest amperage is always recommended) and charge your Porsche without any issue. Tesla Superchargers have proprietary software that prohibits charging any other type of vehicle. So even though your adapter will physically let you plug into a Tesla Supercharger, it will not charge your Porsche.
How much does a Porsche Taycan cost?
You can slide behind the wheel of this exceptional Porsche model for a starting MSRP of as little as $82,700.1 Depending on your level of specification and newly released Taycan trim levels, you can also see an MSRP starting at $187,600.1
Porsche Atlanta Perimeter. The Home of True Champions.
We trust that you have enjoyed our 2021 Porsche Taycan vs. Tesla Model S comparison page and that key information has been shared with you to help you make the best choice based on your EV performance needs. Visit us at our newly renovated showroom in Atlanta, GA, for a VIP experience that you won't find anywhere else. Though we know you'll soon enter the ranks of world-wide Porsche Pilots, you may also want to consider sharing in the fun with other members of your household. Perhaps there's an envious first-driver who you might dissuade from using your Taycan. Not to worry. Fantastic options are available in our collection of certified pre-owned cars. Regardless of how many you take home, ask us about our monthly Concours, where you and your Taycan can end up on a televised event, unmatched anywhere in the world.
---
1Manufacturer's Suggested Retail Price. Excludes options; taxes; title; registration; delivery, processing and handling fee; dealer charges. Dealer sets actual selling price.
1EPA estimates. Your results will vary depending on a wide variety of conditions.
2Manufacturer's Suggested Retail Price. Excludes options; taxes; title; registration; delivery, processing and handling fee; dealer charges.