An Overview of the Porsche SUVs Available at Porsche Atlanta Perimeter
Want to combine luxury, sportiness, and roominess? A Porsche SUV is the ultimate vehicle that gives you the best of all worlds. The Porsche Macan and Porsche Cayenne are idyllic SUVs for zipping around town, grabbing everyone's attention, and weekend getaways. From daily commutes to "hosting" friends and family on road trips, nothing compares to a Porsche SUV.
Meet the Porsche Macan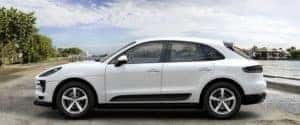 The Porsche Macan is a five-door crossover SUV imbued with luxury. Available from the famed German manufacturer since 2014, this SUV features a number of trims, including the Porsche Macan S, Porsche Macan S Diesel, Porsche Macan GTS, and Porsche Macan Turbo. This vehicle is on an Audi Q5 base.
The Porsche Macan was first announced as a development vehicle in 2010 and formally announced one year later. "Macan" is Japanese for tiger, and this Porsche SUV lives up to its namesake. While this vehicle is built on an Audi, the engine, suspension tuning, body, interior, and transfer case are all one of a kind to Porsche. The Porsche Macan is noticeable for the clamshell hood, which creates a sportscar profile when open.
A variety of engines are available, including a V6. Enjoy a 7-speed PDK dual-clutch in every Macan model as well as a number of options, including the Porsche Active Suspension Management.
Discover the Porsche Cayenne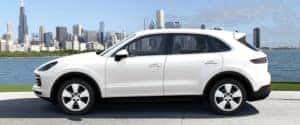 The Porsche Cayenne is also a mid-sized crossover SUV known for luxury. It has been available since 2002 and is the very first V8 by the manufacturer since the 1995 Porsche 928. The Cayenne is also the company's inaugural off-road vehicle in 50+ years and the first of the maker's vehicle sporting four doors. All variants of the Porsche Cayenne have included direct injection technology since 2012.
The second-generation Porsche Cayenne, also known as Type 92A, was revealed at the 2010 Geneva Motor Show. This SUV shares its body with the Audi Q7 and Volkswagen Touareg. There are six trims available so you can customize your vehicle exactly to your liking.
How much is a Porsche SUV?
The Porsche Macan starts at $52,100. With 248 horsepower and the ability to go 0 – 60 in just 6.3 seconds, it truly combines everything you love about the Porsche sportscar with more space and just a touch of ruggedness.
The Porsche Cayenne starts at $66,800. Pricing depends on the trim for all available SUVs, and every trim offers a multitude of luxury features. "Building" your unique vehicle is an exciting process, as is trying out various available SUVs during a test drive.
What is the best Porsche SUV?
Both the Porsche Macan and Porsche Cayenne are excellent crossover SUVs, so there's no final answer for everybody. The best way to gauge which SUV is best for you is to test drive both. However, you can also determine key differences in what each of these vehicles offer to help make your decision.
Both SUVs have four doors and seat five. The Porsche Cayenne features a 3.0L turbo V6 engine while the Porsche Macan has a 2.0L turbocharged inline 4. The Cayenne offers 335 horsepower, and the Macan has 248 horsepower. The transmission of a Cayenne is 8-speed automatic while the Macan is 7-speed automatic.
The two SUVs are AWD and have the same fuel economy at 19/23. The Cayenne is a little more powerful, and of course, the MSRP reflects that. Both vehicles are comparable, but the Porsche Cayenne has been around for longer. Ultimately, opting for the Porsche Cayenne is a bit like "upgrading" a Macan, but the latter is still a luxury SUV very much in its own right.
Selecting Your Porsche SUV
As you can see, there's no easy answer when it comes to deciding which Porsche SUV is right for you. Some drivers prefer the body styling of one over the other, other drivers want the most power possible, while others are intrigued by the price of the Porsche Macan. Choosing any Porsche is always an exciting, life-changing event and you deserve the opportunity to explore both SUVs for yourself.
Porsche has been in the SUV game for nearly 20 years now, and that experience shows in the latest SUV models. There's something for every Porsche lover in both the Macan and Cayenne. If you haven't test-driven these vehicles yet, get ready to fall in love. You've never experienced the power and speed of a Porsche in the form of an SUV.
At Porsche Atlanta Perimeter, we have a number of SUVs in the showroom and for test driving. Visit us today at 4006 Carver Drive Atlanta, GA 30360 to experience the Porsche SUV difference.