All About the Porsche Macan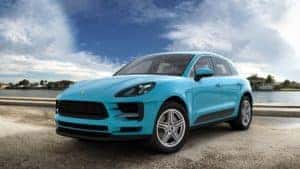 If you're looking for a luxury compact SUV that's as impressive as it is fun to drive, the Porsche Macan should be at the top of your list. The Macan glides around corners with all the stamina you'd expect from a Porsche, and it has three powerful engine options.
Macan performance
With three incredible choices, you're sure to find the precise level of thrill you seek with the Porsche Macan. Choose the standard turbocharged four-cylinder that puts out 248 horsepower and 273 pound-feet of torque, and you'll have plenty of pep for your daily commute.
If you need more power, upgrade to the Macan S with its 3.0-liter turbocharged V6 engine that boasts 348 horsepower and 354 pound-feet of torque. You'll feel the oomph as soon as you press your foot on the pedal.
And from the 2020 model year and up, you can opt for an even more robust engine in the Porsche Macan Turbo that comes with a 2.9-liter twin-turbocharged V6 engine, boasting 434 horsepower and 406 pound-feet of torque. This engine can drive this compact SUV from zero to 60 mph in as little as 4.3 seconds.
Regardless of your choice, your engine will be paired with a seven-speed automatic transmission that shifts precisely when you need it to with gear changes that are smooth as can be.
Upgrade to the Sport Chrono package to give your Porsche Macan even more features that will make you feel like you're driving on a sportscar track instead of in the carpool lane. The Sport Chrono package shaves about 0.2 seconds from your zero-to-60 time with sport exhaust, analog and digital stopwatch, launch control, and more.
The Porsche Macan driving experience
You won't find a better-handling SUV than the Porsche Macan. With responsive steering and incredible road feedback, the overall driving experience is something you have to feel to believe. All-wheel drive helps provide an intense grip that fuels your fun behind the wheel.
But as giddy as you might be to accelerate and turn corners in the Porsche Macan also offers a very practical drive. Its compact size makes it easy to drive and maneuver into tight spaces, and a long list of upgrades help ensure your comfort and safety. The Porsche Macan includes an electronic adaptive suspension, torque vectoring steering, adaptive air suspension, and ceramic-coated brakes.
How much does a Porsche Macan cost?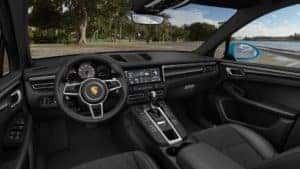 The 2020 Porsche Macan starts at an MSRP of $50,900, and the 2020 Porsche Macan S starts at $59,400. The top-of-the-line Macan Turbo starts at $83,600. Naturally, the Porsche Macan price can increase with upgrade options, but the base prices should give you an idea of what you'd spend.
If you're looking for a certified preowned Porsche Macan, you can save thousands of dollars and still get an amazing vehicle with all the benefits we've mentioned here. The tradeoff is that older models don't have the cutting-edge technology you'll find in the latest model year.
In 2017, the Macan came standard with a rearview camera, lane departure warning, and parking sensors. In this model year, Apple CarPlay was an option.
The 2019 Porsche Macan's interior and exterior got an upgrade with a 10.9-inch touchscreen and a Wifi hotspot. The 2020 Macan has similar styling to the 2020 model, so it has that new-car vibe without the new-car price tag.
Is the Porsche Macan a reliable car?
The Porsche Macan has a long reputation for reliability, and in 2020, it was awarded a 4.5 out of five predicted reliability rating from J.D. Power.
Is the Porsche Macan a safe car?
The 2020 Porsche Macan comes with many standard safety features, including lane departure warning, front and rear parking sensors, a rearview camera, and rain-detecting automatic windshield wipers. You may also opt for safety features that include adaptive headlights, lane-keep assist, adaptive cruise control, and a surround-view parking camera.
If you're ready to get a closer look at this luxury compact SUV, contact us to schedule your test drive. At Porsche Atlanta Perimeter, we have a large inventory of brand new Porsche Macan vehicles and the largest selection of preowned Porsche Macan vehicles in the area.
Give us a call or stop into our showroom to see what it's like to get your hands on the steering wheel of a Porsche Macan.