Porsche eBike For Sale In Atlanta, GA


Contact Us For More Details
Did you know that the first-ever Porsche model was electrified? Electricity is part of the Porsche DNA. The Porsche P1 is the great-great-grandfather to the Porsche Taycan as well as the purpose-built Porsche eBike. This information page will tell you more about the design, technology, and experience that will come from this classic marque reimagined for two wheels. Continue on for an insider's look and purchasing information.
Your Air-Cooled, Two-Wheel Porsche
In the event your Porsche vehicle cannot maneuver you through the tightest of places, the Porsche eBike will most certainly be up to the task. Now, depending on which Porsche you have and where you might find yourself, there is a Porsche eBike built to accommodate your lifestyle. Choose from the:
Porsche eBike Sport– This model is built for when an unparalleled road experience is desired. With a signature Porsche silhouette and sophisticated materials, you'll make a statement wherever you go and to whomever you might pass.
Porsche eBike Cross– This is the perfect companion for a weekend getaway when the weekend calls for you to literally get away from everything. Take to the water crossings. Take to the open country. Take charge of canyon, hill, and dale with a precision-crafted accessory designed to perform just like you do: without limits.
Can't decide? Visit our Porsche accessory gallery to be inspired by the rest of our lifestyle portfolio.
Your Porsche eBike Price & Specs
The Porsche eBike 2021 model offers a full carbon fiber frame, integrated lighting, complete suspension, a Shimano mid-drive motor, disk brakes, and, of course, distinctive Porsche badging.
The fun starts at about $8,500 for the Porsche eBike Cross and tops out at about $10,700 for the Porsche eBike Sport. At less than 10% of the asking price of air-cooled Porsche vehicles with four wheels, the Porsche eBike might just be the next thing you bring home.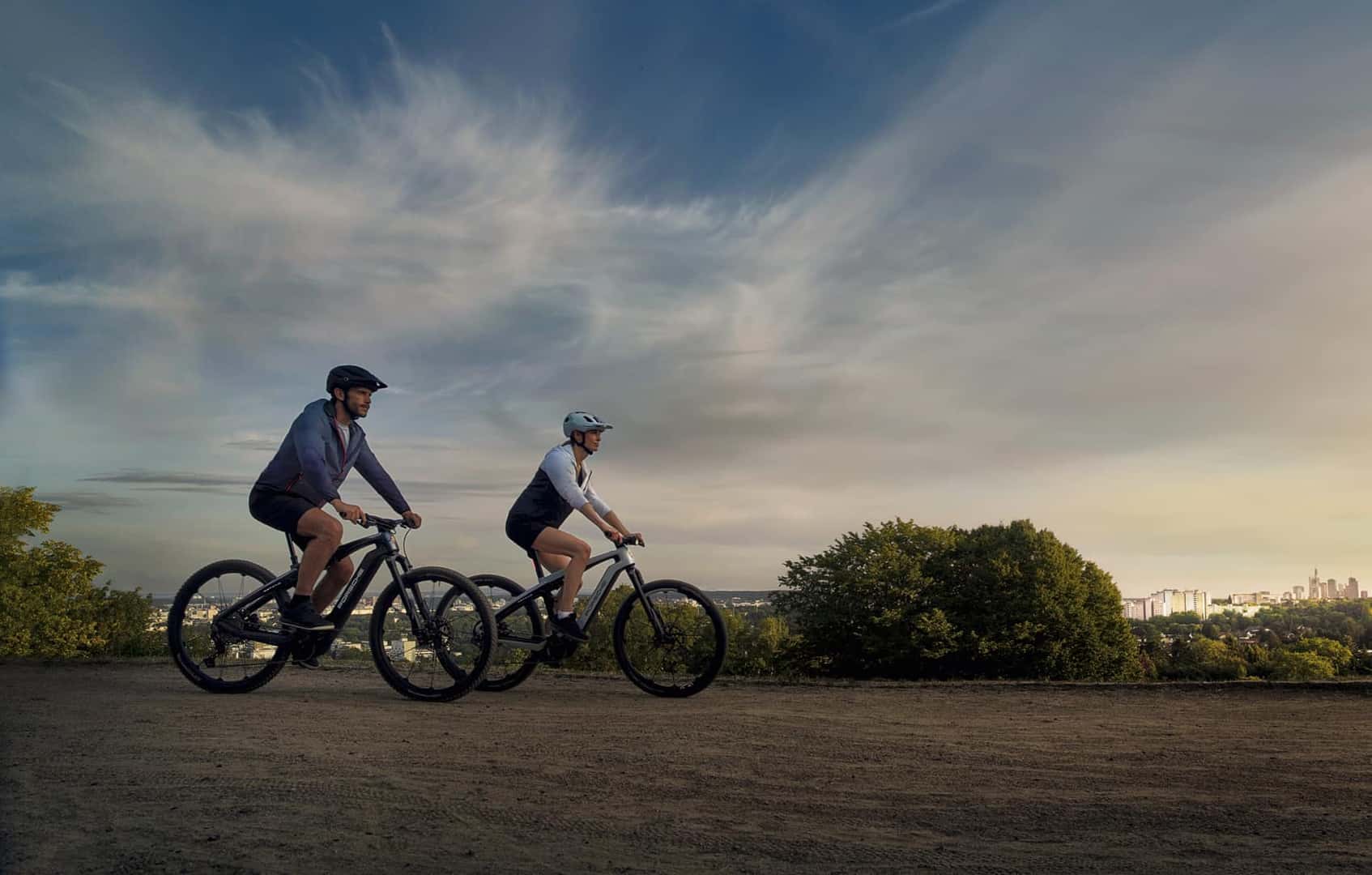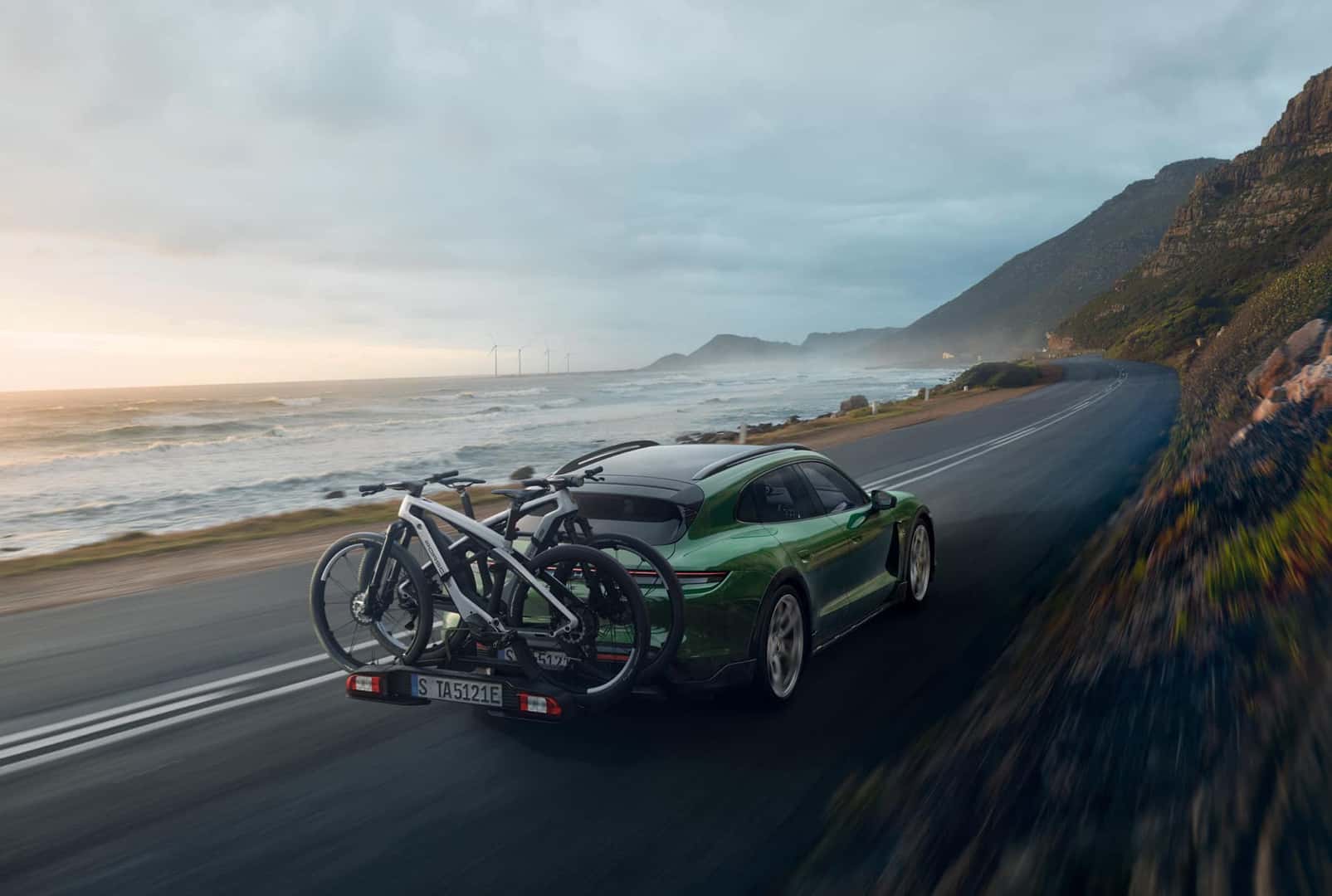 How fast is the Porsche eBike?
Two variables come into play here: manpower and electric power. If you're relying solely on the Shimano motor, you can achieve speeds up to 15.5mph. Now, if you have been training your legs and are descending Le Col du Tourmalet, let's just say it's a good thing you own a Porsche.
Did Porsche make eBikes?
We often receive this question over email. "Did" Porsche make eBikes? They do! With the Porsche eBike Sport and the Porsche eBike Cross, you've got options. But where you decide to take either of them is entirely up to you.
How much is the Porsche electric bike?
You can hop onto either one of these exquisitely crafted machines from anywhere between about $8,500 to just under $11,000. Considering the fact that you can't even buy a respectable watch for less, the Porsche eBike is an easily obtainable lifestyle accessory.
You, Your Porsche eBike, & TV
The world is yours to explore from the driver's seat of any Porsche. With the world in mind, Porsche Atlanta Perimeter sponsors the largest televised monthly car show in the world. As you might expect, we've reserved an exclusive position within the Concours known as "Porsche Corner." All Porsche vehicles are welcome. If you are interested in how you and your Porsche eBike might end up as a guest star, please ask one of our sales specialists for more information about Caffeine & Octane.