Porsche Cayman vs. Boxster

The differences between the Porsche 718 Cayman and Porsche 718 Boxster at first seem minor. They have the same engine. They produce the same horsepower, torque, and performance numbers. They have the same length, width, and wheelbase dimensions. And yet, deciding between these two new Porsche 718 models is not as easy as you'd think.
If you are ready to buy a Porsche and treat yourself to the new sports car you deserve, contact us today. Our helpful associates are waiting to hand you the keys for a test drive.
| | | |
| --- | --- | --- |
| 300 | Max horsepower | 300 |
| 4.9 seconds | 0-60 mph | 4.9 seconds |
| 170 mph | Top Track Speed | 170 mph |
| Turbocharged boxer 4 | Engine | Turbocharged boxer 4 |
| 280 lb-ft | Max torque | 280 lb-ft |
| 5.2 cubic feet | Front luggage volume | 5.2 cubic feet |
| 9.7 cubic feet | Rear luggage volume | 4.4 cubic feet |
| 172.4 inches | Length | 172.4 inches |
| 70.9 inches | Width w/ mirrors folded | 70.9 inches |
| 97.4 inches | Wheelbase | 97.4 inches |
| 51 inches | Height | 50.4 inches |
Porsche 718 Model Lineup
The Porsche 718 banner includes several exciting models. Many of which you'll find in our certified pre-owned specials. To clarify the models we'll be focused on in this Porsche 718 comparison, let's quickly list all of the Porsche 718 models:
Porsche 718 Cayman
Porsche 718 Boxster
Porsche 718 Cayman T
Porsche 718 Boxster T
Porsche 718 Cayman S
Porsche 718 Boxster S
Porsche 718 Cayman GTS 4.0
Porsche 718 Boxster GTS 4.0
Porsche 718 Boxster 25 Years
Porsche 718 Spyder
Porsche 718 Cayman GT4 RS
Porsche 718 Cayman Specs
Since we're comparing the Porsche 718 Cayman vs. Porsche 718 Boxster differences, let's start with the hardtop. The Porsche 718 Cayman is a mid-engined sports car that delivers a weight balance engineered for carving up canyons while speaking the iconic Porsche design language.
Another benefit of a mid-engined sports car is that it creates a sleek stance, which is low and wide for performance handling in the turns. Among other benefits, it also provides two trunk areas for weekend escapes.
The new Porsche 718 Cayman interior provides comfort settings and storage solutions for everyday usability. There are two luggage trunks with ample room for overnight bags. As we'll see, when comparing Porsche 718 Cayman vs. Porsche 718 Boxster specs, the Porsche Cayman provides more rear trunk room because it does not need to sacrifice trunk space for the folding convertible top. If you need to get in eighteen holes every Sunday, you might want to go with the Porsche 718 Cayman over the 718 Boxster.
When building your new Porsche 718 Cayman, or if you're considering a pre-owned 718 Cayman, you can choose between the sport steering wheel or the GT sport steering wheel. The new three-spoke sport steering wheel provides a direct response to the nimble handling of the vehicle, as well as ergonomic access to the PDK or alloyed gearshift paddles.
With Porsche, comfort doesn't have to be sacrificed, and neither does performance. There are several seating possibilities for you to slip into when comparing Porsche 718 Cayman vs. Porsche 718 Boxster options. The Sport Seats provide comfort and support and have electric adjustments, and if you opt for Power Sport Seats or Sport Seats Plus, you benefit from additional adjustment options.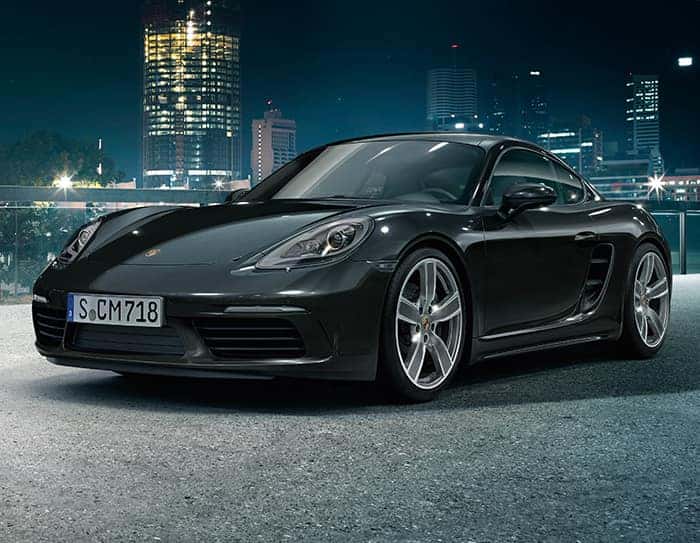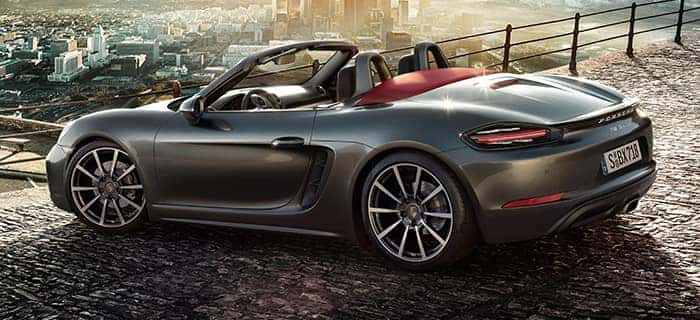 Porsche 718 Boxster Specs
The Porsche 718 Cayman vs. Porsche 718 Boxster debate has a few key differences. The Porsche 718 Boxster has less rear luggage space and is roughly half an inch shorter. Since the engine, powertrain, and interior options are the same, your decision comes down to the question: Do you want the hardtop or the cabriolet? That's a question only you can answer, but we can help with a test drive or two.
If you're shopping for an older vehicle that provides many of the features and comforts found on the new Porsche 718 Boxster, browse our certified pre-owned 718 Boxster models.
For a tour of these new Porsche 718 models, take the short drive over to Porsche Atlanta Perimeter to hear about lease options on new Porsche sports cars.