Porsche Cayenne Vs. Range Rover Sport Comparison

We have set out to compare the Porsche Cayenne vs. Range Rover Sport because these are two of the most exciting SUVs out there. We believe that the Cayenne is the superior model, and to prove this, we've put it up against another top-of-the-line vehicle: the Land Rover Range Rover Sport. It is undoubtedly a powerful and luxurious vehicle — but how does it stack up against the Porsche Cayenne?
Read on to find out how the Porsche Cayenne compares to the Range Rover Sport and visit us to experience the thrills of a new Porsche Cayenne with a test drive.
---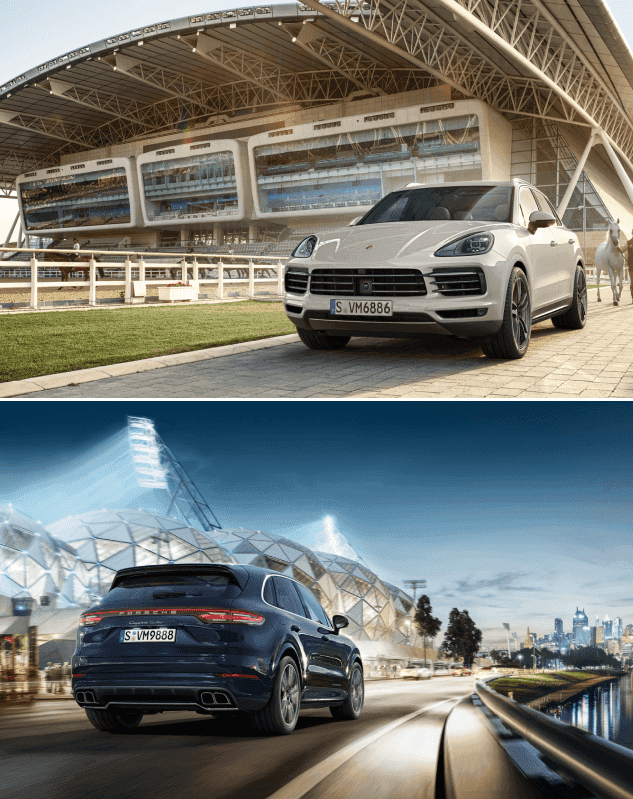 Porsche Cayenne vs. Range Rover Sport Specs
The 2023 Porsche Cayenne enjoys a legendary arsenal of engine options. The base engine is a turbocharged 3.0-liter V-6 with a sporty 335 horsepower output. Drivers searching for more power can opt for a twin-turbocharged version that lets 434 ponies loose. All of the engines for the Cayenne pair with all-wheel drive and an eight-speed Tiptronic S automatic transmission.
The third engine option for the Cayenne pairs a turbocharged V-6 engine with a battery-and-motor system for 455 horsepower. This version is a hybrid and will help you save at the pump. The next engine available for the Cayenne is a twin-turbocharged V-8 that makes a whopping 453 horsepower while delivering a throaty growl that will instill jealousy in passersby.
Do you want more power? Then opt for the Porsche Cayenne Turbo, which boosts the V-8 engine to a thrilling 541 horsepower. Do you want even more? Then go for a Cayenne Turbo GT with 631 horsepower or a Cayenne S E-Hybrid with 670 horsepower.
The Range Rover Sport has a 3.0-liter turbocharged V-6 engine that pairs with a 48-volt battery-and-motor system for a total of 355 horsepower. This same engine is available with different tuning on the middle-trim Range Rover Sport Dynamic, boosting it to 395 horsepower. The top-trim Range Rover Sport Autobiography adds a plug-in hybrid system to that same engine and makes 434 combined horsepower.
The Range Rover Sport First Edition is the only trim with a different engine, using a twin-turbo V-8 that makes 523 horsepower.
How does this power feel? In the top-trim Cayenne Turbo GT, it can feel like a 3.1-second 0-60 mph time. Meanwhile, the top-trim Range Rover Sport First Edition lags behind with a 4.3-second 0-60 mph time.
Porsche Cayenne vs. Range Rover Sport: Interior
The new Porsche Cayenne is an incredibly customizable vehicle. Instead of coming with specific materials, colors, and interior upholstery, Porsche gives drivers the ability to select all of these things for themselves. The level of customization allows you to customize details as deep as the air vents, seatbelts, and clock.
Something to note is that the base-trim Range Rover Sport has a significantly-higher starting MSRP than the base-trim Cayenne, giving you room to enjoy the intricate customization options that Porsche enthusiasts love.
One of the most obvious differences in the Porsche Cayenne vs. Range Rover Sport comparison is their size. Their exteriors are closely matched, but the Cayenne offers up to 60.3 cubic feet of cargo room while the Range Rover Sport taps out at 53 cubic feet.
The Range Rover Sport allows drivers to purchase a third row of seats. However, this third row is limited to use by younger passengers, as it does not offer as much space to accommodate adults. Adults could sit in the third row, but the drive would not be very comfortable. The Cayenne, however, sticks to two rows. This leaves plenty of space for the passengers in the back, allowing for extra wiggle room for adults. This also means that the vehicle is not as heavy as the Range Rover Sport, making for better handling and acceleration.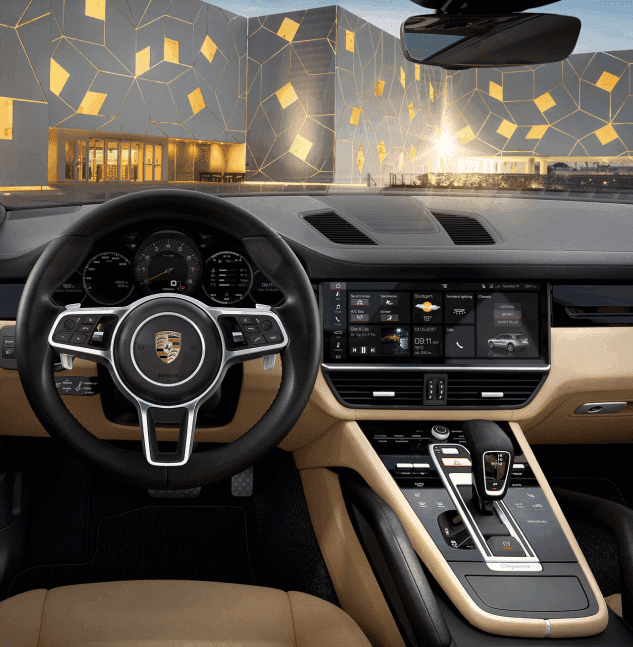 Cayenne vs. Range Rover Sport: Find Your Cayenne With Us
Our dealership is proud to offer the Porsche Cayenne to drivers here in Atlanta, GA. We are also your premier destination for Porsche Cayenne service and pre-owned Cayenne SUVs.
Our friendly staff will greet you with a smile when you visit our dealership. We offer a wide variety of vehicles, including certified pre-owned Cayenne SUVs. Contact us today to arrange a test drive.
Frequently Asked Questions
Is the Porsche Cayenne a reliable car?
As you'd expect from the Porsche brand, the Cayenne is a well-built machine. The Porsche Cayenne has only become better and more reliable as engineers take advantage of the newest technological advancements in the auto industry.
Which is more expensive, the Porsche Cayenne or Range Rover?
The entry-level MSRPs of these two luxury SUVs are comparable, but the Cayenne starts at a more affordable MSRP than the Range Rover Sport. When it comes to the likely cost of ownership, you can save on auto repair and factory-scheduled maintenance for your Cayenne with service specials and discounts at our Porsche service department.
What is the difference between a Porsche Cayenne and a Cayenne S?
The primary difference between the new Porsche Cayenne and Cayenne S is performance. If you're looking for a vehicle that puts the "S" in "SUV," the Cayenne S delivers 434 horsepower and a 4.9-second 0-60 mph time compared to the 335 horsepower and 5.9-second 0-60 mph time of a base-trim Cayenne.
Which is better, the Range Rover Sport or Porsche Cayenne?
While many aspects are a matter of personal preference, the Porsche Cayenne brings an iconic design, unparalleled performance, unmatched customization options, and more usable cargo room than the Range Rover Sport. The five-seater Porsche Cayenne delivers a stylish ride that performs around town and on weekend getaways. For more power and superb interior refinement, the Cayenne is the SUV for you.