Porsche Cayenne Vs. BMW X5: Performance, Dimensions & Reliability

You've dreamt about the Porsche Cayenne vs. BMW X5 for far too long. This page will put these two competitors head to head with facts, figures, and technical details laid bare for you to see. Sure, we might already know who the winner of this showdown is, but we'll let you come to your own conclusion. If you suspect you already know, jump ahead to buy a new Porsche vehicle. If you're curious about our findings, keep on reading.
| | | |
| --- | --- | --- |
| Starting MSRP | $70,3501 | $60,3952 |
| Engine | 3.0L V-6 | 3.0L Intercooled Turbo Gas/Electric I-6 |
| Horsepower | 335-hp @ 5300 rpm | 335 hp @ 5500 rpm |
| Torque | 332 lb-ft | 330 lb-ft |
| Mpg (city / highway) | 17 / 22 | 21 / 26 |
| 0-60 | 5.1 seconds | 5.3 seconds |
| Cargo Capacity | 27.2 cu. ft. | 33.9 cu. ft. |
| Towing Capacity | 7,700 lbs. | 6,603 lbs. |
| # of Passengers: | 5 | 5 |
| Length | 193.7 inches | 194.3 inches |
| Width: | 78.1 inches | 78.9 inches |
| Height | 66.8 inches | 68.7 inches |
---
Porsche Cayenne vs. BMW X5: Engine, Performance, & Specs
At the entry point to the 2022 Porsche Cayenne lineup, you've got a 355-horsepower turbo V-6. The 2022 BMW X5 offers an in-line turbo-six that only manages to get 335 horsepower. On electrified plug-in hybrid models, this trend continues. The X5 gives you an electrified inline-six that delivers 389 horsepower, while the Porsche Cayenne E-Hybrid can launch you off the line with 455 horsepower from its electrified engine. Curious about how the two V-8s from each brand stack up? You'll have to wait for the end.
Now that we've seen how the Porsche Cayenne dominates the X5 in terms of power, we should take just a moment to talk about style. The X5 offers drivers just five ways to showcase their personality, while the Porsche Cayenne offers pilots 19 trim levels with over 200 opportunities for personalization per trim. These are just some of the advantages of opting for a Porsche Cayenne.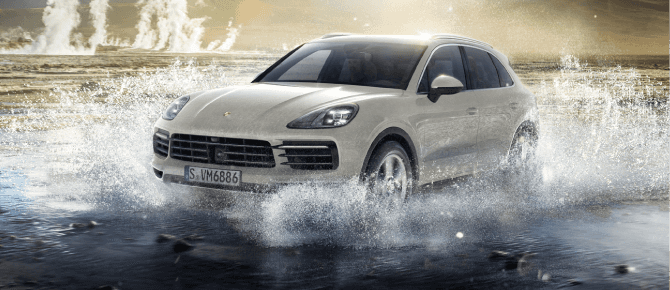 ---

Porsche Cayenne vs. BMW X5: Reliability
Let's open this section with some social proof. In a four-way comparison created by Car and Driver, the Porsche Cayenne came up as the winner (trailed by the BMW and other competitive German vehicles). The detailed report concludes by saying that "the Porsche Cayenne wins because it satisfies under all conditions." With respect to the BMW, this comparison also notes that "the Cayenne makes it easy to drive an SUV as though it's a sports car, it makes it fun. Real fun." We'd like to think that this trusted source offers a reliable assessment of drivability.3
---
Porsche Cayenne vs. BMW X5: Dimensions
The Porsche Cayenne has a 113.9-inch wheelbase and, from end to end, stands 193.6 inches. The X5 stretches its wheelbase to 117.1 inches with a bumper-to-bumper length of 194.3 inches. At first glance, less than an inch separates these two rivals as they stand side by side. Despite the X5's seemingly larger space, the Porsche Cayenne, once again, gives you more. The X5 gives you 103 cubic feet of total passenger volume, while the Porsche Cayenne offers 107 cubic feet of total passenger volume. So not only will the cockpit of the Porsche Cayenne wrap intuitively around its driver, but it will also ensure that its passengers will have more interior space on a more agile platform.

---
Porsche Cayenne vs. BMW X5 FAQs
Many guests at our Porsche dealership ask about the appeal of the 2022 Porsche Cayenne versus the BMW X5. It also doesn't take them very long to form decisive opinions once behind the wheel of a Porsche Cayenne. That said, we're happy to offer you answers to some common questions that we field in our showroom.
Which is bigger, Porsche Cayenne or BMW X5?
Comparing bumper to bumper lengths, the BMW X5 is longer by about an inch. However, in spite of this tiny stretch, it's the Porsche Cayenne that offers considerably more interior passenger volume.
What is the difference between the Porsche Cayenne and BMW X5?
There are many differences. The Porsche Cayenne offers 19 trim levels with over 200 ways to personalize each one. The BMW X5 offers drivers five models to choose from, with their entry point void of real leather seats.
Is the Porsche Cayenne faster than the BMW X5?
Yes. And decisively, too. Taking both top model V-8s from each brand, the 2022 Porsche Cayenne Turbo GT achieves 186 mph and jumps from 0-60 mph in 3.1 seconds with the Sport Chrono Package. The 2022 BMW X5 M50i jogs to a maximum of 155 mph, and it has a 0-60 mph time of approximately 4.2 seconds.
Porsche Cayenne vs. BMW X5: Conclusions
It seems that in every aspect discussed here, the Porsche Cayenne is superior to the X5. So while we're talking about buyer benefits, let's look at another one. We're home to a nationally recognized televised car show. Caffeine & Octane takes place on the first Sunday of every month, and there's a special Concourse for Porsche vehicles known as Porsche Corner. We even have an exclusive entrance. Jump ahead to our new Porsche specials and join us on the first Sunday of every month at our special corner of the Porsche universe.
We hope that you've found our Porsche Cayenne vs. BMW X5 comparison page informative. If you would like any more details about the 2022 Porsche Cayenne, please reach out to one of our team members, who will be happy to assist you. We look forward to hearing from you soon.
---
1Manufacturer's Suggested Retail Price. Excludes options; taxes; title; registration; delivery; processing and handling fee; dealer charges. Dealer sets actual selling price. Some models may be eligible for a federal tax credit of up to $7,500. For more information visit energy.gov.

2Manufacturer's suggested retail price (MSRP) excludes destination & handling fee of $995, tax, title, license, and registration. Starting MSRP may vary as a result of equipment capacity restrictions.

3Gall, J. (2021, November 29). 2020 Mercedes-Benz GLE450 vs. BMW X5 vs. Porsche Cayenne vs. Audi Q7. Car and Driver. Retrieved January 25, 2022, from https://www.caranddriver.com/reviews/comparison-test/a28760023/2020-mercedes-benz-gle-vs-audi-q7-bmw-x5-porsche-cayenne/