Is a Porsche Cayenne Expensive to Maintain?

Your monthly or annual Porsche Cayenne maintenance costs are really just an all-access pass to a higher level of fun. Think about it for a second — if you can stretch your memories back to when you first took your Porsche Cayenne home and compare that to a weekend getaway at a theme park. Which would you prefer: A weekend you'll remember standing in crowded lines with people you'd hope never to see again, or pure exhilaration that's yours to enjoy time after time, forever? This page tells you more about maintenance items, schedules, and the undeniable value of regular Porsche Cayenne maintenance.
Your Porsche Cayenne Maintenance Schedule
Unlike going to a theme park, servicing your Porsche Cayenne is simple. Depending on your year and trim, service intervals will vary. You can find out when you need to see us (and for what services) in the back of your owner's manual. If an owner's manual isn't available, our service advisors can tell you when your next service is due. Here are some of the basic intervals & services:
10,000-mile intervals – Your late-model Porsche Cayenne is designed to have an oil change performed once a year or every 10,000-miles. Your 10,000-mile Porsche maintenance costs are always kept at a minimum with our valuable service coupons and offerings.
20,000-mile intervals – Your brake fluid needs to be inspected, serviced, and possibly renewed every 20,000-miles (or two years). Brake fluid degrades with atmospheric moisture, and it is essential for performance & safety to have this service kept up.
40,000-mile service – At this mileage interval (or every four years), we'll service spark plugs, filters, and your cooling system. Taking care of these services on time helps you avoid performance loss and other Porsche Cayenne maintenance issues from deferred care.
Schedule your appointment at our world-class Porsche Service Center today and keep your Porsche Cayenne maintained by the people who know it (and you) the best.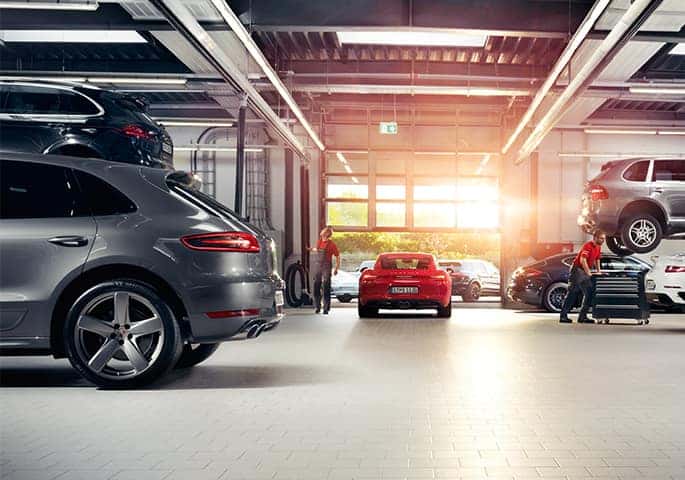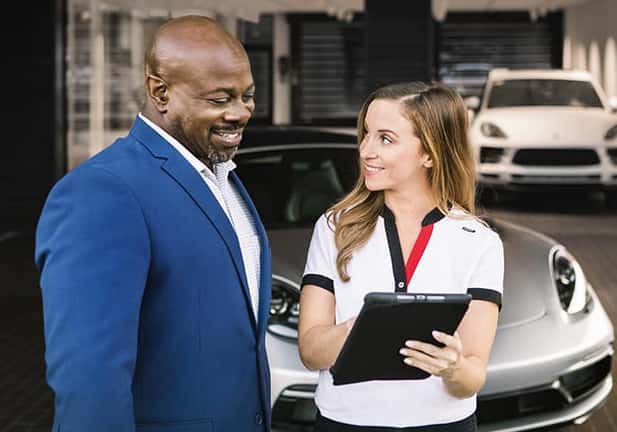 Other Porsche Cayenne Maintenance Costs to Consider
With a new Porsche Cayenne and all other new Porsche vehicles, your first scheduled maintenance visit is on the house. With a comprehensive 4yr/50k mile warranty, you're also well-covered against any unforeseen maintenance needs. But what about every other type of vehicle?
Benefits of Pre-Owned – The savings are seductive when it comes to owning a pre-owned Porsche Cayenne, especially when you get one from us and can lean into the quality provided by our service department. To further mitigate any Porsche Cayenne maintenance costs, you can purchase an aftermarket warranty and extended service contracts.
Benefits of Certified – You can purchase extended service contracts and other extended warranties for CPO examples. But the key benefits of a certified pre-owned Porsche Cayenne include a two-year unlimited mileage warranty with $0 deductible repairs. That's a great way to save as you take your Porsche to the limits.
---
Porsche Cayenne Maintenance Cost FAQs
What does the Porsche Cayenne maintenance schedule look like?
For a world-class performance-oriented machine, our technicians want to get their eyes on it once a year (or every 10,000-miles) for various reasons. We'll look at lubrication, fuel delivery, cooling system, suspension, electronics, ignition, and more.
Is it expensive to maintain a Porsche Cayenne?
No. Maintaining a Porsche Cayenne can be a money-saving affair when you buy our value-rich service contracts. There may be a performance part that needs to be replaced from time to time, which might have a specialized cost associated with it. But after all, isn't that why you took a Porsche vehicle home in the first place?
Where can I fix my Porsche Cayenne?
You are always invited and encouraged to maintain your Porsche Cayenne with us here in Atlanta, GA. Porsche Atlanta Perimeter is the place to go for exceptional service you can rely on. Not to mention a chance to end up on television. Please speak to an advisor about participating in the world's largest outdoor monthly car show hosted by our dealership.