Guide To 2022 Porsche Cayenne Exterior Colors Options

Porsche Atlanta Perimeter is thrilled to offer you this definitive guide to 2022 Porsche Cayenne exterior colors. We'll discuss all of your exterior options so that you can quickly determine what your incredible Porsche SUV will look like. Every color available evokes a sense of wealth and purpose. As you browse our list of Porsche Cayenne 2022 colors, we encourage you to think about the memories and experiences that define your life. What have you accomplished? Where have you been? When you close your eyes, what colors do you see? Now let's find a 2022 Porsche Cayenne for sale that embodies that place, time, and experience.
Your 2022 Porsche Cayenne Colors Guide
All of us return from our travel destinations feeling refreshed and inspired but usually with a sense of longing, too. Why is that? When we feel at our best, there is often a palette of colors pulling the strings of our subconscious. The endless blues of the Caribbean offer a sense of youth and vitality. The earth tones found deep within a forest offer a sense of calm and quiet power. Endless fields of wildflowers suggest excitement and limitless possibilities. Selecting the right color for your vehicle will impact how you feel every day, so let's dig deeper and see what colors your Cayenne can wear to help you stay at your best.
Porsche White – Pure. Clean. Stately. The wavelengths of white light hold the "DNA" of all colors. Often associated with victory and purpose, a White Porsche Cayenne can tell the world how you feel about your achievements.

Porsche Black – Arguably one of the most popular colors associated with position and class, a Black Porsche Cayenne is undeniably powerful. Make a statement when you arrive and create a sense of intrigue with this carefully blended color from our designers.
Porsche Carrara White Metallic – Carrara marble is the most abundant Italian marble. If you look closely, you'll discover a background of cooler metallic flakes, including silver, gold, and blue. If you want your Porsche Cayenne to resemble timelessness, this would be the way to go.
Porsche Jet Black Metallic – This blend of black has hints of white, silver, and blue. In almost all cases, your Porsche will retain a liquid quality until certain angles reveal your secret. Evocative and cunning, Jet Black Metallic suggests your driving spirit.

Porsche Dolomite Silver Metallic – Or sometimes Porsche Cayenne Silver, this color comes from the mineral limestones typically found in Brazil. Known for its rosy (and occassionally golden) color, Dolomite has created the stable bedrock for the Earth to sit on. What do you support?
Moonlight Blue Metallic – When the night sky is graced with spectral silver, a deep navy & purple are revealed. This very regal color pairs well with any interior color combination. If you have a royal flag to fly, this might be a perfect choice.

Porsche Mahogany Metallic – Undeniably warm, rich, and dignified, this color also offers a sense of sensuality. When was the last time you explored one of the world's finest libraries? This color will most certainly bring you there.
Porsche Quartzite Grey Metallic – Quartzite rock results from extreme temperatures and pressure. As such, it is bold and powerful. A Porsche Cayenne painted in this color suggests how unstoppable you are.

Porsche Carmine Red – One of the most popular Porsche Cayenne special colors, Carmine Red is more than just a red Porsche SUV. This color signifies passion, danger, and fury. If you are unapologetic about your choices and enjoy broadcasting unwavering confidence, Carmine Red is for you.

Porsche Cayenne Chalk – This color is simultaneously cool and warm. Complex and smoky. It pairs seamlessly with any interior color and has the unique ability to take on other color characteristics as the light changes throughout the day.

Porsche Cashmere Beige Metallic – Wonderfully rich, this understated color exudes confidence and distinction. Cashmere Beige is bold enough to create interest and intrigue while maintaining a sense of composure that comes from high levels of accomplishment.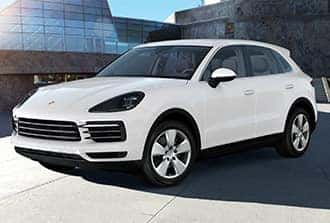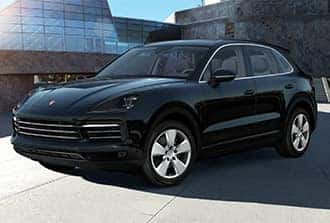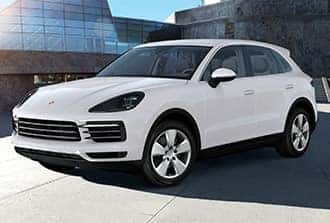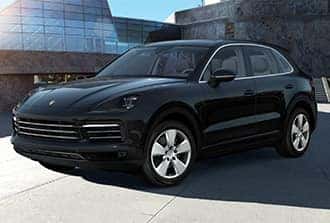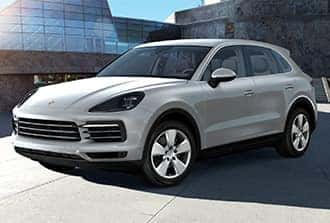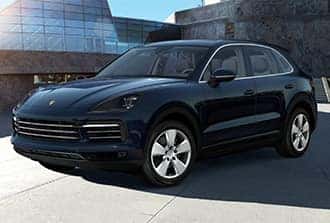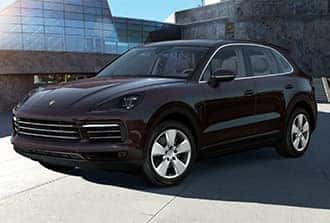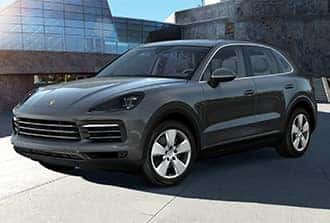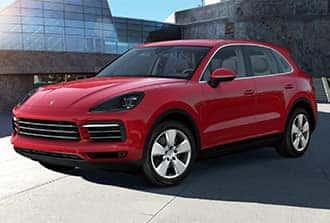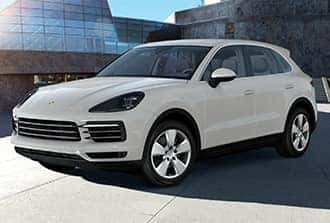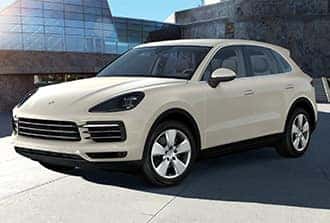 Porsche Cayenne Custom Colors
If the traditional selection of Porsche Cayenne color options isn't enough, why not try something from Porsche Paint to Sample? Let's say you've redone your garage in the most alluring frosted purple and you need your next vehicle to match… we can make it happen. What if all that's keeping you from your dream of Porsche ownership is the lack of one color available on a vehicle from a time gone by? Consider your wishes granted. Our team of color technicians will verify the feasibility of any paint sample for quality, aesthetics, and longevity. If the color meets our requirements, we can meet your expectations and paint your Porsche Cayenne in a color all your own.
FAQs
Any of these Porsche Cayenne exterior colors will help you stand out. Each one has its place and purpose. Now all you have to do is see which one feels best. Here are some answers to the most common questions about color selection. We trust they will help you with your journey:
What is the best color for the Porsche Cayenne?
An entirely subjective question; we might answer by asking, "What is the best color for you?" Statistically, red held the candle for many years. As of 2016, ¾ of new cars sold are white, followed by black, silver, and grey.
What colors does the Porsche Cayenne come in?
With 12 distinctive colors to choose from, you can find your Cayenne sprayed in Cashmere Beige, Chalk, Carmine Red, Quartzite Grey, Mahogany Metallic, Moonlight Blue Metallic, Dolomite Silver Metallic, Jet Black Metallic, Carrara White Metallic, Black, and White.
What is a Porsche original (unique) color?
Spraying your Porsche Cayenne in Carmine Red is possibly one of the most distinct colors available from our palette. It is exciting and highly individual.
What Color Is Your Cayenne?
We hope that our overview of available 2022 Porsche Cayenne exterior colors has given you some insight into which color might be best for you. If it's tough to decide, we invite you to speak with one of our design specialists. Keep in mind that there are equally as many interior colors to choose from, and when you factor in the added ability to choose carpets, stitching, and accents, your options are truly endless. Explore our Porsche Cayenne lease specials and see what production-ready examples look like. This should offer some meaningful perspective on our design capabilities and what your masterpiece might look like. Your canvas is waiting.