All About the Porsche Cayenne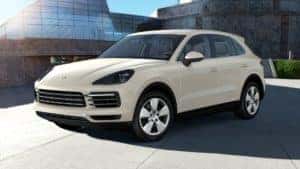 The Porsche Cayenne has been disrupting the mid-size luxury crossover market in North America since 2002, and it was a major introduction because this was the first time we saw a V8-engine in a Porsche since 1995. Notably, it was also the first Porsche with four doors.
The Cayenne is the largest Porsche vehicle, and it offers a wide range of powertrain options that include a pair of V6s, a plug-in hybrid, and a twin-turbo V8 engine.
Since 2008, all Cayenne engines feature direct injection technology.
And you probably already know that power means nothing if it can't be harnessed. And that's where the Cayenne steps up to honor the Porsche legacy with impressive handling and a sporty ride.
With a seemingly endless array of customization options, the spacious interior of the Porsche Cayenne is just waiting for you to make it your own.
Three Generations of Cayenne
The third-generation first made its debut in 2018 with a full makeover that epitomized the intersection of performance and practical luxury. With powerful turbo engines, a new eight-speed Tiptronic S gearbox, new chassis systems, and innovative display and controls, this new generation Cayenne is worth the hype. In this generation, we've also seen the world's first Surface-Coated Brake with tungsten-carbide layer as an option to increase friction while reducing brake wear and dust.
The Cayenne is equal parts sports car and SUV, which is the ideal combo for many racecar enthusiasts who also need an exciting daily driver.
Second Generation
In the 2011 model year, the second-generation Porsche Cayenne emerged with a mild style refresh, improved efficiency, and even better handling than the first generation.
If you're in the market for a preowned Porsche Cayenne in the years between 2015 to 2017, you'll find redesigned taillamps, tailgate, and rear bumper, and there's also a new dual exhaust system. In this generation, Porsche introduced new colors to the Cayenne line and enhanced its fuel efficiency.
First Generation
Porsche launched the Cayenne with two trim levels, the Cayenne S and the Turbo. Both came with V8 engines. Diesel and V6 were added to the lineup later.
The Cayenne S had a 335-horsepower V8 that could reach speeds up to 150 mph and go from zero to sixty in 7.1 seconds.
Later base models featured a 247-horsepower 3.2-liter V6 with all-wheel drive and six-speed Tiptronic automatic transmissions.
The Turbo and Turbo S models featured height-adjustable off-road suspensions and a locking differential. The Turbo S featured a 514-horsepower twin-turbocharged 4.5-liter V8 with six-speed Tiptronic automatic transmission. The Tubo S could go from zero to sixty in 5 seconds — quite an accomplishment for an SUV, especially at the time.
In 2008, we saw the Turbo model upgraded with a larger 4.8-liter engine that could achieve zero to sixty in a mere 4.9 seconds.
Is the Porsche Cayenne a good car?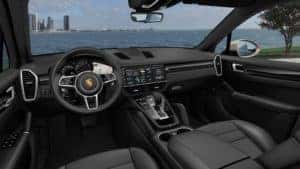 More than just a good car, the Porsche Cayenne is an exceptional luxury mid-size SUV. Choose a base model or customize the Cayenne to your liking with three lively engine choices and a wide array of interior options.
From the base model, the Cayenne comes loaded with technology and luxurious amenities designed to produce a memorable ride. Combine that with the nimble and responsive nature of a sports car, and your trips to the grocery store just got a whole lot more interesting. Features like adaptive air suspension, Porsche Dynamic Chassis Control, active headlines, and Porsche Active Suspension Management contribute to the sports-car-like ride you'd never expect from an SUV.
If you're in the market for a Porsche Cayenne, you should know that this is an extremely reliable SUV that isn't likely to have many technical problems. However, because it's a luxury import, repairs and maintenance are likely to cost more than the average SUV.
Is Porsche Cayenne expensive to maintain?
If you're looking to enhance reliability, opt for a new Cayenne or a preowned third-generation Cayenne. We have plenty in stock, so whether you're looking for a 2019 Cayenne Turbo S or a 2020 Cayenne S Hybrid, we have the Porsche you're after.
When you're ready to get behind the wheel of a new or preowned Porsche Cayenne, give us a call. We'll be happy to set up a test drive of a first, second or third-generation Cayenne. With an extensive inventory and incredible service, we're happy to help you get behind the wheel of your new Cayenne. So what are you waiting for? Contact us today to learn more about our Porsche Cayenne models for sale today!