Porsche Atlanta Perimeter Celebrates the Porsche Taycan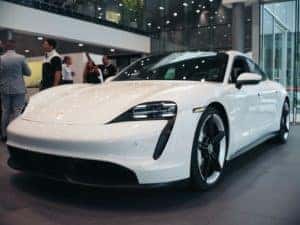 The Porsche Taycan represents a bold step forward for the company, forging a new path for the legendary marque, and giving us our first look at what we can expect from Porsche's electrified future. Since its debut towards the end of 2019, the Taycan has become a runaway success, becoming the third best-selling car in our product line within its first year, a remarkable feat for such a revolutionary new release. Porsche Atlanta Perimeter celebrated the growth of the Taycan family with a dinner and drink social in our showroom, with many of our long-time Porsche clients and enthusiasts joining us to learn all about Porsche's exciting new future.
Sustainability and environmental consciousness were the themes of our Taycan launch celebration. Guests enjoyed a catered dinner featuring an organic farm-to-table menu with vegan options, all served on biodegradable bamboo fiber plates. Festivities opened with a message from our General Manager Mike Boyd, followed by presentations from our Brand Ambassadors. Darvee Beard, a new member of our team, introduced the Taycan with a brief history of Porsche, tracing the company's timeline and sharing what inspired the brand's shift towards electric performance. Roman Williams then took over to showcase the Taycan's technology and features with a thorough walk-around of everything this incredible machine has to offer. The evening carried on with music, refreshments, and plenty of lively conversation among our wonderful family of Porsche enthusiasts.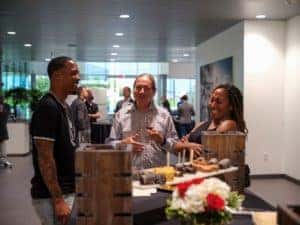 The Taycan derives its name from a Turkish word that roughly translates to "soul of a spirited young horse," reflecting the fresh and bold new direction Porsche has taken with their first fully electric car. The Taycan was first introduced with Turbo and Turbo S models, shortly followed by the 4S, each offering various levels of performance and standard equipment. Taycan 4S models feature two electric motors producing 523 horsepower, with an optional Performance Battery that increases output to 563. Turbo models raise the output to 671 horsepower, and Turbo S models are armed with a blistering 751 horsepower.
Joining the family for 2021 is the new Taycan Rear Wheel Drive model, powered by one 402 horsepower motor, with an optional Performance Battery increasing output to 469. A lighter platform and rear-wheel-drive offers a unique and dynamic driving experience at the entry level, and with a starting price of $82,700, it opens new doors to those who are looking to enjoy a cleaner and quieter take on Porsche performance.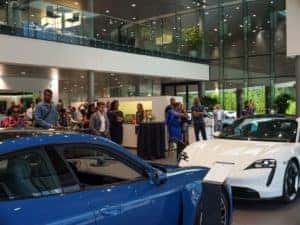 The Taycan also features several innovations in sustainability. A wide range of interior materials includes OLEA Club Leather, a sustainably tanned material that uses olive leaves, reducing the use of acids and other chemicals. A leather-free option called Race-Tex mimics the texture of suede and is made from recycled polyester fibers though a process that produces 70% less carbon dioxide compared to traditional material production. Environmental consciousness carries over to the Taycan's production and supply chain as well, as Porsche's factory in Leipzig, German has been fully powered by renewable energy sources since 2017. Taking a further step towards sustainability, Porsche will be investing more than a billion Euros over the next decade in wind turbines, solar energy, and other renewable energy sources with the goal of creating a fully carbon-neutral production line.
We would like to thank everyone who joined us to celebrate Porsche's momentous and progressive new direction. We look forward to the new ways in which electric motor technology will enhance our driving experience, and we are excited to see the Porsche family grow.