Compare The Porsche Cayenne S & Range Rover Sport


The Porsche Cayenne is a luxury SUV that can definitely stand in a class all its own. And if you're asking why, there's a good chance you've never had the pleasure of driving one.
If you've narrowed your search for a new performance SUV down to the 2021 Porsche Cayenne S and the 2021 Range Rover Sport, you're probably trying to make that final Porsche Cayenne S vs. Range Rover Sport comparison.
If so, we have you covered. While we're confident the new Cayenne outperforms the Range Rover Sport, and you should schedule your test drive right now, you don't have to take our word for it. As you will soon see, the facts speak for themselves.
The Cayenne holds its own in the luxury market with incredible style, comfort, and cutting-edge technology, but beneath the hood, you'll find all the excitement you'd expect from a Porsche.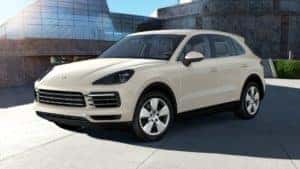 Since its debut in 2003, the Porsche Cayenne has been perfecting the balance between luxury and exhilaration. And after 17 years of introductions, the 2020 Porsche Cayenne exhibits the ideal blend of comfort and performance.
In the base model, you'll find a 3.0-L V-6 engine that provides enough oomph to leave many of its rivals in the dust. But you may be wondering how this compares to a Range Rover.
Most vehicles have their strengths and weaknesses, and we're going to cover those to determine whether the Porsche Cayenne is better than a Range Rover.
Naturally, we have a favorite, but with such impressive performance and sharp handling, we're not afraid to compare the 2020 Porsche Cayenne with the 2020 Land Rover Sport (or any other luxury SUV).
You may find this comparison helpful if you've been comparing the two luxury SUVs. And in truth, there are some things you should know.
But remember, only one can come out on top in this head-to-head comparison of the Porsche Cayenne and Range Rover.
Porsche Cayenne vs. Range Rover Interior Benefits
The interior of your car is where you spend all your time when you're using your vehicle, so it should deliver the comforts, materials, and features you enjoy. Let's look at the features that will have you wanting to lease a Porsche Cayenne.
Comparing the Porsche Cayenne S vs. Range Rover Sport interior features, we see that the Porsche cabin greets you with a suite of impressive technologies:
Apple CarPlay®
Porsche Communication Management system
SiriusXM radio
3 LCD monitors
WiFi
10 speakers
Voice activation
The Range Rover Sport also comes with Apple CarPlay® and voice recognition to help you stay in touch with your world.
Who is faster, Porsche Cayenne S vs. Range Rover Sport?
While cabin comforts keep you comfortable and connected, let's face it: if you're looking at a Porsche Cayenne S vs. Range Rover Sport comparison, you want to go fast.
The V-6 Porsche engine delivers 434 horsepower while the Range Rover only manages to muster 355 horsepower. The Range Rover Sport is also a seven-seater SUV compared to the five seats in the Porsche, which means the Range Rover will be heavier, and weight is the enemy of speed and performance.
Comparison Table Porsche Cayenne S vs Range Rover Sport

Model

2021 Porsche Cayenne S

2021 Range Rover Sport

Starting MSRP*:

$85,100
$82,200

Engine:

2.9L V6
3.0L V6

Horsepower:

434
355

EPA-Estimated MPG*:

18/22/20 (City/Highway/Combined)
19/24/21 (City/Highway/Combined)

Seating:

5 standard
7 standard

Length:

193.7-inches
192.1-inches

Width:

78.1-inches
74.1-inches

Cargo volume (SAE):

53.9 cu. ft.
62.2 cu. ft.

Fuel tank size:

23.7 gal
27.6 gal

Interior benefits:

Apple CarPlay
Porsche Communication Management system
SiriusXM radio
3 LCD monitors
WiFI
10 speakers
Voice activation
2 10-inch touchscreens
Apple CarPlay and Android Auto
Voice recognition
USB and HDMI connections
WiFi
Spotify Connect
Cayenne vs. Range Rover Performance Comparison
Power and performance are two of the most important features in a luxury SUV because they equate to fun behind the wheel. The Range Rover Sport comes standard with similar equipment — a 3.0L engine paired with automatic transmission.
But remember that with the Cayenne, we are still talking about a Porsche, which means that this is one of the few SUVs in the world that can handle and accelerate like a sports car.
Although the Range Rover Sport is a tough competitor, it does have a larger turning radius than the Porsche Cayenne, which is another reason the Cayenne is more fun to drive.
And for those looking to break local speed records, the new Porsche Cayenne is the clear winner. The Cayenne's top speed reaches 152 mph. That's more than 20 mph greater than the Range Rover Sport!
Which SUV Offers More Room?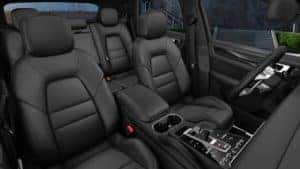 Both the Porsche Cayenne and Range Rover feature amenities like heated leather seats, parking assistance, Bluetooth®, SiriusXM® Satellite radio, and keyless ignition. You'll find that the Range Rover comes standard with a sunroof, but its base price is also considerably higher than that of the Cayenne.
In the 2020 Porsche Cayenne, you'll find standard 4-zone climate control and a cabin ionizer to contribute to a comfortable ride. The Cayenne also features a 4G LTE wifi hotspot, five USB ports, a 10-speaker sound system, and Porsche Communication Management (PCM) with a 12.3-inch touchscreen.
When it comes to choosing between the Porsche Cayenne and the Range Rover Sport, it's going to come down to personal preference. If an exhilarating sports-car-like drive tops your list of must-haves, the Porsche Cayenne is always going to be the clear winner.
If you've already made your decision and are looking for a Porsche Cayenne for sale, we've got you covered. We have a large selection of new Porsche Cayenne models ready and waiting to find their home in your garage.
Porsche Lease Offers
Now that you've picked a winner between the Porsche Cayenne S vs. Range Rover Sport, you'll want to secure a lease deal or finance offer. When it comes to the benefits of leasing vs. financing, a car lease can help you get into more car than you might otherwise be able to afford. Talk to our team about ways to lower your monthly payment with a new car lease.
If you prefer to own what you drive and want to finance, see how you can save with a used Porsche Cayenne at our dealership.
Porsche Cayenne and Range Rover Frequently Asked Questions – FAQ
Is the Porsche Cayenne a reliable car?
As you'd expect from the Porsche brand, the Cayenne is an extremely reliable and well-built machine. Throughout the years, the Porsche Cayenne has only become better and more reliable as engineers take advantage of the newest technological advancements in the auto industry.
What is the best year Porsche Cayenne to buy?
While there isn't a bad choice, the best Porsche Cayenne to buy will probably be the newest model that fits into your budget.
Which is more expensive, the Porsche Cayenne or Range Rover?
If you're comparing the price of the new Porsche Cayenne S to the Range Rover Sport, the starting MSRPs are comparable, with the Porsche being slightly higher while offering ample value for your money. When it comes to the cost of ownership, save on auto repair and factory-scheduled maintenance with service specials and discounts at our Porsche service department.
What is the difference between a Porsche Cayenne and a Cayenne S?
The primary difference between the new Porsche Cayenne and Cayenne S is performance. If you're looking for a vehicle that puts the S in SUV, the Cayenne S delivers 434 horsepower compared to the 335 horsepower in the Cayenne. The Cayenne S also takes you from 0-60 mph in 4.9 seconds, while the Cayenne needs 5.9 seconds to get you up to speed.
Which is better, the Range Rover Sport or Porsche Cayenne?
While the exterior style is a matter of personal preference, the Porsche brings an iconic design language along with heritage performance and plenty of usable cargo room. The five-seater Porsche delivers a stylish ride that performs around town and on weekend getaways, while the Range Rover brings seating for seven and legitimate off-road performance for all those times you take to the mud in your luxury vehicle.
Porsche Cayenne S vs. Range Rover Sport: Review
Thank you for reading our Porsche Cayenne S vs. Range Rover Sport comparison and review. While facts and figures are helpful, the best test is a road test. We invite you to visit Porsche Atlanta Perimeter to meet the new Cayenne S for sale in person and take a spirited drive. We're confident that you'll be asking about a Porsche Cayenne S lease price before you're back.
Ready to get behind the wheel of a 2020 Porsche Cayenne? Contact us to schedule your test drive today.