Employee Spotlight: Tommy Walter
---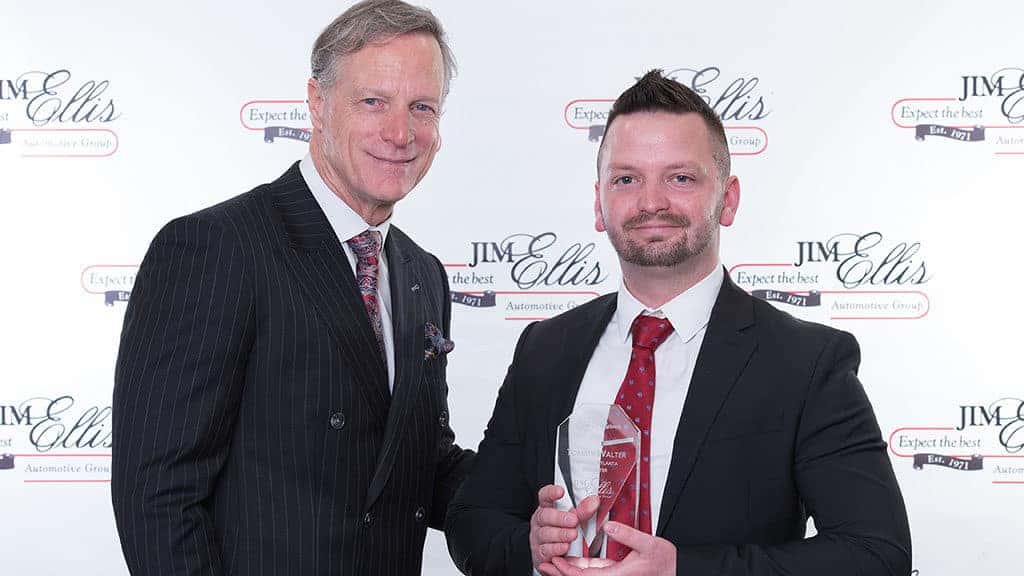 At Jim Ellis Automotive, a job well-done doesn't go unrecognized. Each year, the company recognizes those who obtain special achievements at each dealership. One of the items recognized for each store is the person that sells the most vehicles for the previous calendar year. Recently, Tommy Walter at Porsche Atlanta Perimeter was recognized and given an award for his hard work in 2019 when it came to helping our customers secure their desired next vehicle.
Proving his work ethic and talent connecting with people, Tommy was able to assist 155 Porsche Atlanta Perimeter clients in completing the purchase of their next vehicle in 2019.
"Tommy is a tremendous asset to our team," said Porsche Atlanta Perimeter General Manager Eric Mihelich. "He has a very clam and even-keel disposition, even in the most challenging situations. His focus, work ethic and attention to detail really shows his clients he cares and he always makes the focus about the customer's experience.  He is always looking to improve and he consistently takes the lead on training, new products, and working to improve his performance. He is also a team player that goes out of his way to help everyone in our store be the very best they can be."
With a history in the automotive industry that began in 2006, it was nothing new for Tommy when he started with Jim Ellis five and a half years ago. He began as an express technician (oil changes) at a Honda store and moved up at the dealership to become a technician in the main shop. From there he became a service advisor for an Acura store and then moved on to Mercedes as a parts inventory specialist. After taking a similar parts position at Porsche Atlanta Perimeter in 2014, Tommy decide to take the leap and challenge when a sales position came open.
Tommy opted to stay at Porsche Atlanta Perimeter to continue his journey in the automotive industry for a number of reasons.
"I am passionate about Porsche," said Tommy. "I get to work around the most iconic brand in automotive history. I feel lucky to work here and try to bring my passion to every one of my clients. My coworkers here are like my family. I genuinely look forward to seeing them on a daily basis."
When asked what his secret is for being so successful, Tommy's response was, "Honesty. Customers tend to be happier and more open when they trust the person sitting across the desk. I try to advise my clients in an open and honest way."
In addition to having his own success, Tommy enjoys the opportunity to work with clients that are also successful in their own skill or trade.
"Our customer base is made up of so many successful business people," Tommy said. "I get to learn every day what makes them successful in their field."
When he is not working, Tommy enjoys spending time with his 10-month-old son Oliver and his wife Julia, who he met as a coworker during his time at Jim Ellis.
"We are thrilled to have Tommy on our team and have big plans for his future," said Mihelich.
Tommy is ready to help you find your next vehicle and will provide a great experience along the way!