All About the Porsche Panamera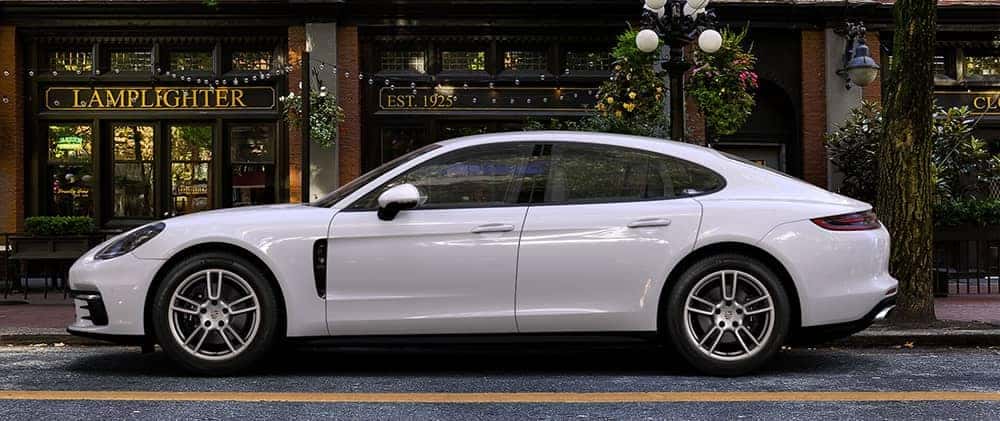 The Porsche Panamera takes a visionary idea and transforms it into an exciting prospect. And as with all great ideas, the spark that ignited the Panamera challenged everything we know to be possible. We're talking about a legitimate four-person sports car with impressive performance and incredible comfort. Could your daily driver also make your heart skip a beat? We sure think so.
The Porsche Panamera is a sporty sedan, but it's nothing you would expect. At Porsche, we challenge the idea that a sporty sedan has to look more like a sedan than a sports car.
The Panamera experience
Regardless of the trim you choose, you'll find unmistakably Porsche proportions and silhouettes. Clear contours and powerful muscles define this athletic, streamlined work of art.
The Panamera features a long wheelbase with a shorter front and longer rear overhang that accentuate the visual appeal. Prominent side sculpting solidifies the Porsche waistline and aesthetic.
With the Panamera Executive trim, you'll find the ideal combination of sporty driving and comfortable seating. Rear passengers will enjoy the additional 0.59-inch addition to the overall body. Above the side skirts, you'll find silver-colored elements that enhance the visual features of the Executive models. And to top it all off, Porsche has added high-gloss silver air outlet trims in the front fenders.
While many things about the Panamera are groundbreaking, the simple concept of a four-seater luxury sports sedan has become old news. That's why Porsche has pushed the envelope once again with an additional fifth seat in the Sport Turismo. This smaller-sized fifth seat is ideal for seating smaller passengers for small to medium distance trips.
One of the crowning achievements of the new Panamera is its ability to challenge the concept that stylish design and everyday practicality are mutually exclusive. This is evidenced by the large tailgate and low loading edge, which makes this luxury sports car convenient for everyday scenarios. Add to that the extraordinary capacity of up to 49.0 ft³ and you'll be delighted to learn that you really can have it all.
What is the fastest Porsche Panamera?
The 2020 Porsche Panamera Turbo S sedan features a 4,751-pound turbo engine (also available on the 2021 Porsche Panamera Sport Turismo) that can surge from zero to 60 mph in a mere 2.9 seconds. Want to go zero to 100? You can get there in as little as 7.2 seconds. Speeds top out at 196 mph with Launch Control in Sport Plus mode.
As for the base model and configuration, you may get from zero to 60 in just 5.4 seconds.
How much is a Porsche Panamera?
The new Porsche Panamera has a starting price of $87,200 and the price will increase based on your model and configuration of choice. The most expensive Panamera by Porsche (by far) is found in the Exclusive Series at $263,000. Built for just 100 Porsche enthusiasts, this truly is the most exclusive Panamera ever.
Test drive your new Porsche Panamera today
If you're interested in the 2020 Porsche Panamera, check out our extensive inventory and contact us to schedule your test drive. We also have stock of the popular 2019 Porsche Panamera and other certified pre-owned models.
There's nothing like the experience of getting behind the wheel of a brand new Porsche Panamera, and we'd love to make that happen for you. Contact us to schedule your test drive today.