All About the 2020 Porsche 718 Boxster
At the heart of the Porsche 718 Boxster line lies a four-cylinder turbocharged boxer engine that breaks free from standards and inspires conviction.
The 2020 718 Boxster carries the legend forward with models that were made for sport.
These mid-engined roadsters combine legendary sporting spirit with future-forward advancements and technologies. The end result delivers a sportier chassis setup, an even more eye-catching design, and many new comfort, performance, and assistance systems upgrade.
And with 365 units of turbocharged horsepower, there's only one question left. What are you waiting for?
It's time to begin your search for the best 2020 Porsche 718 Boxster for sale in your area. And it begins here at Porsche Atlanta Perimeter.
2020 Porsche 718 Boxster Highlights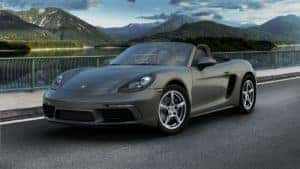 In the 2020 model year, you'll find an exciting new variant to the 718 lineup: The Boxster T. The 2020 Boxster T retains the base flare-four engine and replaces some of the interior to reduce weight, making this new addition even lighter and more nimble. Every Boxster T comes with 20-inch wheels, a sport-tuned suspension, and Porsche's Sport Chrono package with additional drive modes. And you'll have fun exploring the unique interior and exterior details of this new standout model. If you're looking for the ultimate Boxster experience, the all-new 718 Spyder will have everything your heart desires. The GTS 4.0 is also new for 2020, and it features a naturally-aspirated 4.0-liter flat-six that delivers 394 horsepower.
Performance
If you've had the pleasure of owning a 718 Boxster already, you'll see that the fun is just getting started. With an increase of up to 35 horsepower and 73 lb.-ft. of torque, this vehicle offers a driving experience that's made to impress even the most discerning Porsche enthusiasts. And the newly developed four-cylinder turbocharged engines are sure to get your adrenaline pumping.
Safety
When you're shopping for a sportscar, performance matters, but performance is about more than zero to sixty stats. Braking, airbag technology, and other safety features are equally important because you should be able to get swept up in the thrill of the drive without having to worry about safety. The new 718 models come equipped with four-piston aluminum monobloc fixed calipers, advanced airbag technology and Side Impact Protection System (POSIP) to keep you safe on the road. In addition, all 718 models come equipped with Bi-Xenon headlights with LED daytime running lights.
Steering and Handling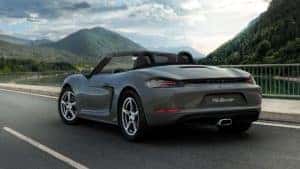 True excitement begins when you depart from the straight and narrow and start dancing around the curves of life. That's why the 718 Boxster has a chassis that can master any challenge even with its engine's intense power output. Aluminum suspension parts keep the vehicle weight and unsprung masses low. The specific chassis construction, wide track, and long wheelbase help deliver precise and agile handling every time.
And the direct steering system of the new 718 models boasts even more immediate ratio than that of previous models, resulting in agile turn-in and an even sportier driving experience.
Comfort power steering plus is an option that delivers firm steering at high speeds and an adjustable ratio for easier maneuvering in low speeds — ideal for easier maneuvering and parking.
If you're looking for a 2020 Porsche 718 Boxster for sale in Atlanta, you've come to the right place. Give us a call to schedule your test drive at Porsche Atlanta Perimeter today.