911 Turbo Coupé and Cabriolet: Continuing the Porsche Legacy of Excellence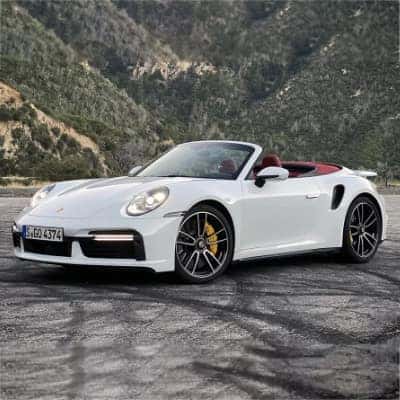 The name Porsche has always been synonymous with excellence. One reason for this is that Porsche never stops pushing the boundaries of performance and style.
The just-introduced new generation of the 911 Turbo Coupé and Cabriolet are no exception – achieving new heights in terms of power, speed and individuality.
Porsche drivers value acceleration, and the 911 Turbo Coupé and Cabriolet don't disappoint. With their 427 kW engines (which is 30 kW more than their predecessors) both the Coupé and Cabriolet achieve zero-to-60 mph acceleration in under the three-second mark, coming in at an astonishing 2.8 seconds.
And you'll be surprised at how effortless it feels, powered by 750 Newton meters of torque. That's 40 Nm more than prior models of the Coupé and Cabriolet.
By the way, these new 911 Turbo S variants can get up to a top speed of 198 miles-per-hour, helped along by a transmission that's powered by an eight-speed PDK gearbox with a Turbo-specific setup.
And there are numerous ways customers can individualize their vehicle, one of which is to choose the optional Sports and Lightweight Design packages, along with sports chassis and sports exhaust systems.
What makes these vehicles so responsive? How are they able to perform at such an astonishing level?
One reason is the Turbo's 3,745 cm³ six-cylinder boxer engine, which boasts an increased output of 580 PS and features symmetrical VTG turbochargers with electrically controlled bypass valves. It makes the vehicle more responsive, boosts its torque characteristics and allows it to rev more freely.
Meanwhile, the active all-wheel control PTM transfers more power to the front wheels, even as traction at the actively steered rear axle is increased by a 10-mm-wider track.
In addition, both the chassis and the body are wider than on previous models. Inside, drivers will enjoy modern interiors including Porsche Advanced Cockpit and Direct Touch Control – featuring a 10.9-inch screen designed to be operated quickly and without driver distraction. And you'll get to experience all this in 14-way sports seats along with the powerful BOSE® Surround Sound System.
You expect Porsche to deliver an exceptional performance, and the 2021 911 Turbo Coupé and Cabriolet deliver on every level. Watch for the arrival of these two new models at Porsche Atlanta Perimeter in early 2021.