2021 Porsche Cayenne GTS: V-8 Power Makes a Return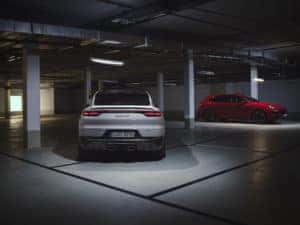 The new 2021 Porsche Cayenne GTS and Cayenne GTS Coupe is slated to arrive at Porsche Atlanta Perimeter sometime this fall. These two new thrilling model variations welcome back the V8 engine to the GTS.
Sporty in speed and sound
Bringing the motorsports atmosphere to the road, the Cayenne GTS is powered by a 4.0-liter twin-turbo V8 engine — generating 453 hp and 457 lb-ft of torque. Paired with an eight-speed Tiptronic S automatic transmission and Porsche Traction Management all-wheel drive, these two new GTS models boast a 0 to 60 mph time of 4.5 seconds — 4.2 seconds with the use of Performance Start (included in the optional Sport Chrono Package and standard on Coupe). These acceleration speeds top the previous Cayenne GTS model by 0.4 seconds and 0.6 seconds respectively. Both models share a top speed of 168 mph on the track.
Optional central Sport Exhaust for Coupe models
For those looking for enhanced sound from the engine of their Cayenne GTS, Sport Exhaust comes standard — a system featuring tail pipes that run adjacent to the outer edges of the rear bumper and create a soundtrack that fits seamlessly with the vehicle's superior dynamics. The Cayenne Coupe option allows for even more customization with the alternative of a center exhaust system, featuring oval-shaped tips. This adjustment enhances the sporty appearance of the vehicle and demands even more attention than the Sport Exhaust system on the GTS models.
Updated suspension lowers center of gravity
Already known for the fundamental maneuverability that sets GTS models apart, both new models received updated Porsche Active Suspension Management (PASM) dampers that, when mated with the standard three-chamber Air Suspension, shaves 30mm off the chassis clearance when compared to the Cayenne S.
Standard GTS accents give exclusive appearance
While the Sport Design package comes standard on the new Cayenne GTS models, the elite appearance gives no indication of anything standard. Paired with black accents, both new Cayenne GTS models showcase 21-inch RS Spyder Design wheels in satin black. LED headlights feature the Porsche Dynamic Light System (PDLS) and are complemented by the tinted LED taillights. Offering additional black accents to the vehicle are the front air intakes, side window trim, tailpipes of the sport exhaust system and the rear Porsche logo and model designation.
The 2021 Cayenne GTS models feature upscale materials such as Alcantara® that can be enjoyed on the headliner, seat centers and center console armrests and doors. Heightened side bolsters in the GTS models offer optimal support in the eight-way sport seats.
These 2021 Porsche Cayenne GTS models will arrive at Porsche Atlanta Perimeter this fall. MSRP for the 2021 Cayenne GTS begins at $107,300. Base MSRP for the 2021 Cayenne GTS Coupe starts at $110,500. Both prices are excluding delivery, processing and handling fees.